My kids love crafting. My office floor is often covered with their scraps because they steal my supplies to make things for themselves. They also love to get into the kitchen with me to make fun things, so when I saw the book, Awesome Edible Kids Crafts, I knew we needed it. So, when I was given the opportunity to review an advanced copy, I was beyond excited!
So the book came, and I asked my kids to go through it and mark with a post-it what crafts they wanted to do. After TWO DAYS of them pouring over this book and reading every page, it looked like this:
They marked every page. Every. Single. One. So right off the bat, this book was a hit.
We went to the store for some supplies, but most were things that I had on hand.
The book was easy for my seven year old to follow, and he read the instructions to let us know what to do.
He also loved the little "fun facts" on each page. Little "did you know" tidbits that gave a random fact somehow relating to the craft.
The first thing we made were the wands because my kids are obsessed with all things Harry Potter at the moment and loved the idea of a wand that they could make… and eat! (I have countless wands all over the house made from pipe cleaners and foam paper, so a wand that they could eat was also appealing to me!)
Can we just take a minute to appreciate a pretzel wrapped in caramel and covered in chocolate? Seriously.
My son remarked after eating a couple bites that his wand now also looked like a deluminator, so there's that too.
We made the Marshmallow playdoh, and that was a fun mess! It was a mess because as my son read the instructions, I decided that as a chef, and someone who has made fondant before, I had this and therefore, did my thing, not the book's. Resulting in this:
We got it under control, and many gleeful memories were made as we wiped this on each other's hands! Read the instructions y'all, coat your hands. Coat them well, coat them often.
After this, I turned it all over the kids, my four year old needed a little guidance and help pouring milk, but the rest of that day, they did all on their own.
They painted on toast…
They made mud….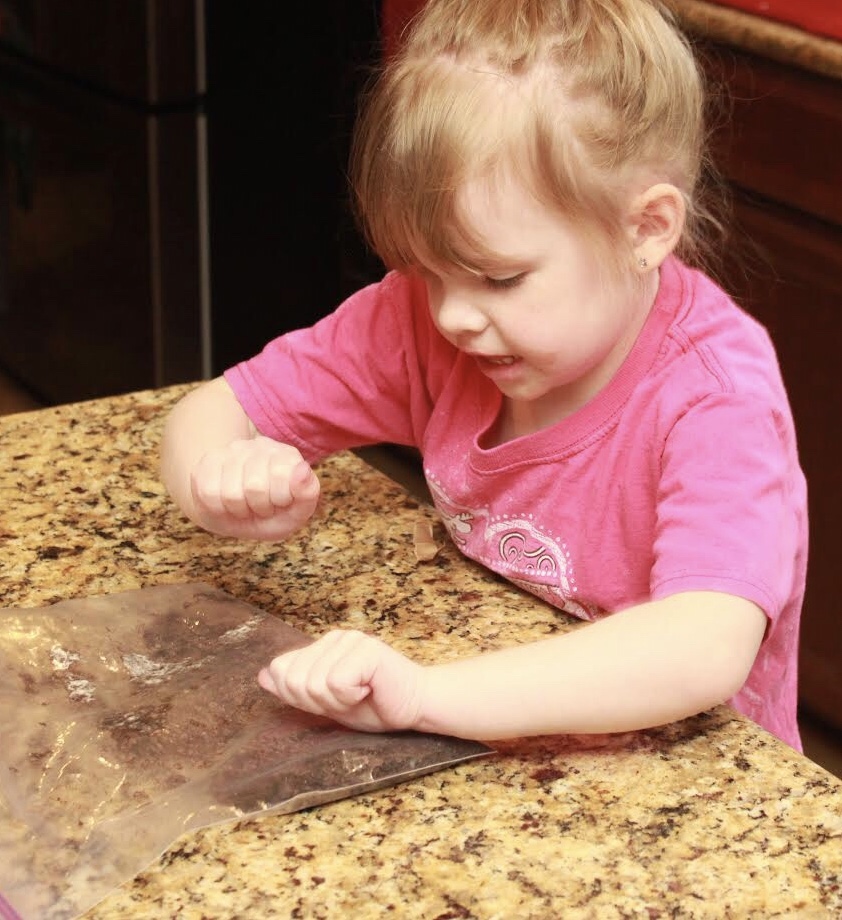 And the next morning we made pig pancakes, or in my husband's case, alien pigs:
We made a few other things this weekend, and judging by the post-its still in the book, we will be making many more.
This book is great for so many reasons:
It's fun, there are so many things you can do in this book that will result in memories later.
It gives kids a sense of independence and autonomy when they can do these on their own, with minimal supervision, or be in charge of the craft.
They learn to read a recipe, something that is invaluable.
They learn that it's ok to deviate from the recipe at times and put their own spin on it, like using Nutella to draw ears on a pig, instead of making them out of pancakes, for example.
It gets them off their iPads and other screens and into the kitchen, interacting with each other and you.
We truly enjoy this book and all the fun it brought into the house!