And yes, if you are wondering, I am having fun with these titles.
The truth is, however, most people DON'T get the potassium they need, and that's not good.
Here's why.
As someone with Chiari and syringomyelia (yeah never will be able to spell that without looking it up) this is something I should watch to make sure the nerves I have left are all firing on eight cylinders. I don't know how or why, or whatever, but I know that this week, I've been eating more potassium and I notice a difference.
HOW have I been eating more potassium, you ask? Well gosh! I'm glad you brought that up.

How about a grilled pork tenderloin with a baked sweet potato? I have to say, when I saw pork tenderloin on the list, I light up. FINALLY! Something I am comfortable with. In fact, I could cook one of these in my sleep, and it's as close to bacon as I can get with these posts with Stephanie.
Sweet potatoes are not only delicious, but they are packed with nutrition. I know I've made them on here before in a regular boiled and mashed manner, but to keep the nutrition in the food as opposed to in the water, bake it. Not to mention its easier and you have less dishes to wash later.

Wash the tater, and wrap it in foil and stick in a 400 degree oven for about an hour. It will depend on the size of the tater, so jut keep an eye on it.
Next up take your tender loin, rub some Dijon mustard on it along with some salt and pepper.

Put these on the grill and cook until the internal temp is about 140-145 degrees. Remember that they will continue to cook a little after you take them off.

Now I know, pink pork makes people nervous. You're going to get trichinosis, or worms will grow in your brain, or your stomach, or whatever. The truth is, it won't. It's just not going to happen. There are a lot of things the FDA lets slide when considering if food is safe (or if it's really even food), but meat temp is really not one of them. In fact, they are overly cautious in this area. That being said, if dry, gray meat is your thing, I'm not going to convince you. 145 is the ideal temp for whole pork loin, but if you feel safer going to 160, that's ok too. I guess.
Take your meat off the heat and let it rest, but in the mean time, did you know fruit and pork are BFFs? I usually do a blueberry sauce for this dish, but I also did a plum sauce in school once for our mystery basket class. Today will be a take on pork chops and apple sauce.

Slice an apple thin and melt some butter about 2-3 tbls in a pan. Add the slices of apple, 2tbls bourbon and 1 tbls brown sugar. Let them cook down, get soft, and delicious.

Slice your pork and serve it on a bed of spinach because it's pretty and adds nutrients. Then top with the apples, and add your baked sweet potato.
This is just as good without the bourbon buttered apples, but what isn't more fun with a little bourbon? If you don't have the able topping, you can do this whole meal with very minimal cleanup. Does it get any better than that?
I also made a poached halibut and red lentil soup this week too. Poaching is a healthy way to cook a lot of things, and it's great for fish. If you like fish. I'm not a huge fan, but I know it's good for you.

To get started:

Add water, white wine, a half a lime and some thyme to a sauté pan and bring to a boil and then take the heat back down to a simmer, then add your halibut.

Cook this until the fish just becomes opaque.
Now for the soup. I have to tell you, I've fallen in love with red lentils this week. I love soup. I love to make a big pot of soup and freeze part of it, so on some nights, I can be lazy and just defrost a creamy, thick soup. I've never used red lentils until this week, but they thicken a soup, and are delicious.
Here's what I did:

Chop an onion, one fennel bulb, 2 carrots, and two stalks of celery. Sweat these until tender and transparent, then add 12 ounces of red lentils and stir them around in the pot. Then add 5 cups of water, a bay leaf and some salt to taste. Let this cook for 45 mins or longer… Really at a medium heat after 30 mins, this will hold, I'm mean it's soup. You could cook it all day.

They will break up and almost take on a potato-y texture. I used an immersion blender to mix up the other veggies in this, so it was all the same texture.
Put this in a bowl with or without your fish, and enjoy. (and try not to break up the fish when getting it out of the poaching liquid like I did. Oops.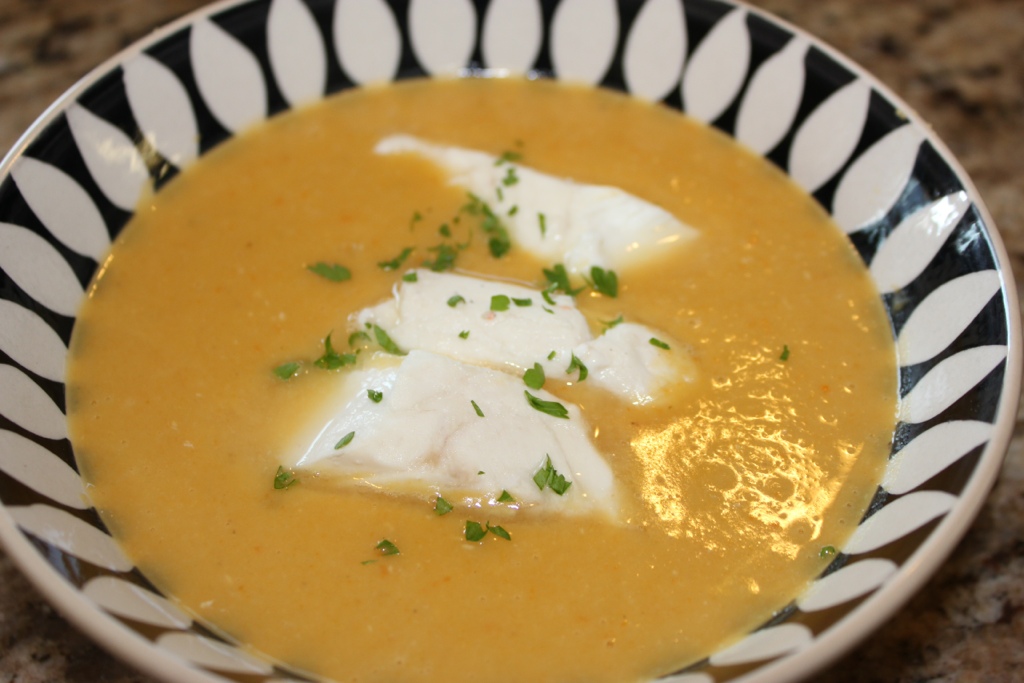 By the way, my 21 month old son liked this soup so much he preferred it over MEEEAAAATTTTTT. That really says a lot. Especially for a vegan dish.
All this cooking too much for you?
Just make a fresh fruit salad. I sliced up some strawberries (1/2c), a banana, red grapes (1/4 c), and blueberries (1/3c).

Then I mixed the juice and zest of one lime and 2tbls honey

I drizzled it on the fruit and tossed to coat, but don't use too much, I only used about 1/4 of the dressing on this amount of fruit. I use this as a side, a snack, or put it on your waffle.
There is always some fruit salad left over, and I have a great way to use it up. Instead of buying one of those yogurts that is full of sugar with "fruit on the bottom", take three tablespoons of this mixture and mash it up.

Then mix it with 1/4c plain Greek yogurt. The juice from the fruit really adds to this as well.
I can honestly say I can not pick a favorite this week. These are all delicious. Some are old standbys, some are new favorites, and I love any way I can recycle food and turn the left overs into something totally different.
Hopefully you have already checked out why you need potassium over at 3squarenutrition.com, but if you haven't, go, see why you need it, and check out the nutrition information, the go to the store. This stuff is easy and the leftovers are just as good as the first night.