Ok, going to try this again, as my iPad decided to get rid of my last post.
I was admitting that I could truly give or take eggplant. I don't dislike it, but I don't seek it out, and in culinary school one of my teachers hated it. Truly HATED it, the flavor, the texture, everything about it. Needless to say, we didn't work with it a lot.
When you think of eggplant, you can't help but think of ratatioulle.
This is a French dish, that for some reason people think is involved, but in reality it is not. It was considered "peasant food" because it's basically stewed vegetables. When you don't have much money, and you work hard, at the end of the day, you need something easy and somewhat fast. Sound familiar?
There is a big controversy on whether you should cook the vegetables together, or separate. I roast them on the same pan, but on their separate parts.
Ratatouille
1 Eggplant -Diced
1 Green zucchini -Diced
1 Yellow Squash -Diced
1 Small Bunch Basil torn into small pieces
1 tbs Butter
4 Med Tomatoes -Diced
1 clove garlic -grated
1tbs Olive Oil
Salt to taste
Spread first three ingredients on a baking sheet, drizzle with olive oil, sprinkle with salt, and roast at 350 for about 20 mins.
Melt butter in large stock pot.
Add roasted vegetables, tomatoes basil, and garlic, and decent pinch of salt. Cook on med/low heat, covered for about 45 mins. If it needs any liquid, add a little water.
The next thing you think of when you think of eggplant, is baba ganoush. Doesn't everyone think of that?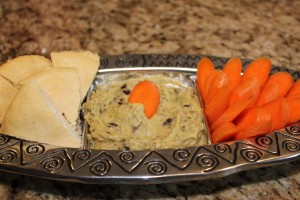 Baba Ganoush Recipe
Ingredients
1 medium eggplant
juice and zest of 1 lemon
3 tbs olive oil
1 clove garlic, grated
1 tbs tahini
heavy pinched salt
½ tsp sugar
Instructions
Roast eggplant in oven at 350 degrees until soft.
Combine roasted eggplant and remaining ingredients in a blender and mix well.
Serve with veggies or pita chips
The last recipe is an idea Stephanie gave me. She makes pizzas for her son, and I tried them, but as I was assembling them, I decided to make sandwiches out of them. (Maybe partially because I was toying with making a philly cheese steak with it, ….. and I still might)

This also has a bonus recipe for pizza sauce.
Eggplant Pizza Sandwiches
1 Eggplant – sliced 1/2″ thin
Olive Oil
Pizza Sauce
Pepperoni
Mozzarella Cheese – shredded
Place eggplant slices on baking sheet, drizzle with olive oil, and bake at 375 for about 20 mins, flipping once.
Spoon pizza sauce onto 1/2 of the slices.
Place pepperoni and cheese on top if sauce and return to oven to melt cheese.
Place bare slices on top of pizza slices and serve.
Super Fast and Lazy Homemade Pizza Sauce
2 Tomatoes peeled and seeded.
2 tsp Garlic Powder
1 tsp Onion Powder
1 Heavy Pinch of Salt
1 Tbs Water
1 tsp Oregano
Simmer all ingredients in a saucepan over med heat until tomatoes break down, and it forms a sauce.
I was always told eggplant had no nutritional value, so why bother eating it. The truth is, its a versatile little veggie that you can do a number of things with. The possibilities are endless, and look for more recipes on here as I get more eggplant over the season. In the end, even if it is not the most nutritional food, it's better than fast food or convenience food. And by the way, I highly doubt it has no value. Let's go see what Stephanie has to say about it!