We get together with my family quite a bit.  In fact, a holiday or birthday without my niece and nephew would be a depressing excuse for a holiday, and I may not recover from the trauma.  The problem is, there are three of us who are gluten free, one vegetarian, and one vegan.  Oh and two of us that actually LIKE to cook, but only one of us who pays attention to cross contamination carefully.  (Spoiler alert: It's me)
I love a new cooking challenge. Â That was the first thing I was excited about when I went gluten free. Â I was actually excited about the new parameters, I guess I was bored with regular old flour.
This weekend was my son's first birthday, and I took a social stand on the 'having a big party for a one year old who thinks he's a dog' thing. Â We went to the lake to celebrate with my family. Â I promise, he didn't miss anything. There were presents, cake, family, and of course, the dog.
I was trying to figure out what to cook. I settled on gazpacho, but discovered my nephew was hoping for street tacos, so of course I caved and made them, I can't tell that kid no, but don't tell him. My version of a street taco is: meat (Usually pork, and I'll show you how I make it)  put into a lightly fried (to soften it up) corn tortilla, then topped with diced red onions, cilantro, and a squeeze of lime.  Deeelish.
Here is what I do to the meat:
I get a beautiful pork butt ( I. Smoke. Pork. BUTTS and I cannot lie) from my butcher,
Then I get out my dutch oven or any pot big enough that heats evenly, and I add
A couple onions, a few cloves of garlic and a jalapeno, just a rough chop on them the pork will sit on top.
Then you take the pork butt and cram it into the pot.  I use a 10 lb with a bone in, and I don't remove the fat, I just cant get it in fat side up.  It cooks long enough, you don't really need to worry about what side the fat is on.  I season it with garlic powder, a very liberal amount of salt, and cayenne pepper.  Also brown sugar, Don't forget this part like I did last time.  Its not as good.  Its good, but not "slap yo mamma" good. Anyway, once everyone is in, you pour a Pepsi over the top.
This eats away at any connective tissue.  Don't forget this step either.  I prefer the throwback, but I suppose it doesn't really matter. -A side note to any Chiarian out there, if you have a headache and you can catch it early enough, try drinking a Pepsi.  It actually helps, I don't know why, but it does.  I remember when my dad would have headaches after a spinal tap, his Dr would tell him to drink a Pepsi.  Not a coke, but a Pepsi.
Back to the meat; stick it in a 300 degree oven for roughly 6-8 hours and when its done it will look something like this: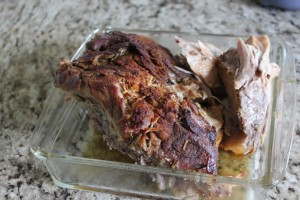 Pull it out and shred the meat. Â Take the juice (aka fat) it was cooking in, and strain out the chunks of fat, onion, etc… and put the shredded meat back into the pool
Let this simmer on the stove until you are ready to eat it. Â Now from here, you can use it for taco meat, put it on nachos, put it on a sandwich with some BBQ sauce, or just eat it plain. Â It also freezes well. Â When I make this, I will freeze half of it and have a whole week's worth of dinners about three months later without all the effort.
If you make this, let me know how it turns out for you!